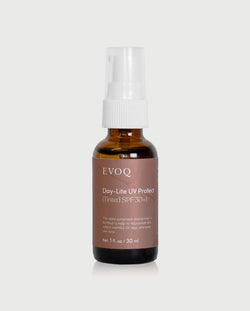 Day-Lite UV Protect (Tinted SPF 30+)
This daily sunscreen and primer is fortified to help to rejuvenate skin, reflect harmful UV rays, and even skin tone.
You're always in your PRIME TIME.
---
"This sunscreen and primer is a multi-action, lightweight, and 100% chemical-free hydrating lotion. It's a broad-spectrum UV equalizer that's fortified with Vitamins C + E + D to soothe as it protects skin from environmental aggressors.
At first pump, the "universal tint" might seem light — but rest assured, it's this exact quality that gives the antioxidant-rich anti-pollution formula its ability to blend sheerly into most skin tones without leaving a ghostly cast behind.
It effortlessly blends and blurs reddy undertones for a more natural skin tone and enhanced outer glow. Zinc particulate of sunscreen absorbs, reflects and redirects harmful UV light into photo-rejuvenating wavelengths for simultaneous photoprotection and photorejuvenation.
As a makeup primer, it's the most powerful BB cream, creating a smooth, radiant canvas for additional makeup. Don't be surprised if you forget that you're wearing anything at all."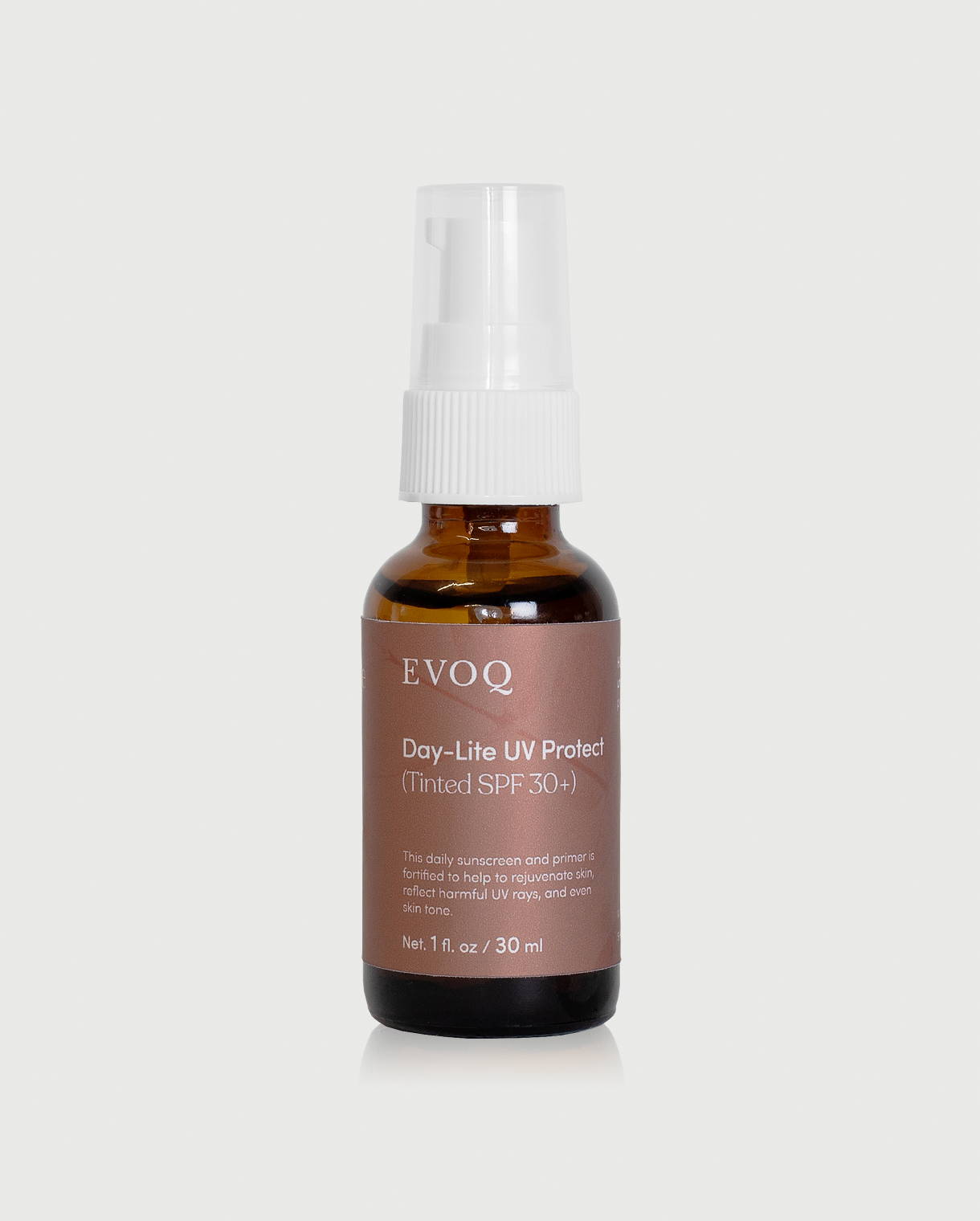 25% Non-nano Zinc Oxide 35 SPF

Unlike many chemical sunscreens, zinc oxide protects against UVA and UVB light rays and is often used as a natural, non-toxic sunscreen to prevent burns, signs of photo-aging and irritation. Reduces the visibility of skin damage by eliminating free radicals that increase the risk of skin cancer. Safe for the whole family.
---
Vitamin D3 (Cholecalciferol)

Contributes to healthy skin cell growth, repair, and metabolism. It optimizes the skin's immune system and helps destroy free radicals that can cause premature aging.
---
Naturally a UV absorbent, it reduces the appearance of wrinkles and lightens dark, under-eye circles and scars. Source of VItamin E.
---
The closest molecular oil to our skin's natural oil. It contains wax esters that act as a protective barrier to keep moisture in.
---
Rehydrates and helps skin retain its natural dermal barrier to deter water loss. Potent ability to neutralize damaging free radicals caused by UV and environmental/chemical stressors.
"Zinc Oxide Non-Nano (25%), Purified Mineral Water, *Jojoba Oil, *Shea Butter, *Vitamin E, Sunflower Seed Extract (GMO-Free), *Extra Virgin Olive Oil, *Vegetable Glycerin, *Vegetable Emulsifying Wax, Iron Oxides.
*Curated with organic, wildcraft, and food-grade ingredients."
Parabens, Preservatives, Petroleum, Phenoxyethanol, Mineral oil, Xenoestrogens, Synthetic dyes, SLS, Phthalates, Gluten, QUATS, PEGs, Silicones, Chlorides & EDTA, DMDM Hydantoin, Non-Comedogenic, and Hypoallergenic.
100% Bioavailable
Evoq's evidence-based active ingredients optimize activity through a bio-affinity with the skin to re-awaken and support cellular communication and optimal function that slow down as a result of age, stress, and lifestyle. Explore the Forces of Nature.
Skin nourishments are packaged in advanced biophotonic glass bottles to protect light and air-sensitive ingredients, keeping your solutions fresh, potent and proactive for visible results.
STRATEGIC BIOACTIVE BENEFITS

-Provide antioxidant protection against environmental aggressors.
-Coverage of 97.1% UVB absorbance protection.

-Natural mineral pigments blend seamlessly and are ideal for most Caucasian skin types.
-Deliver powerful UVA and UVB broad-spectrum protection that helps prevent sunburn and decreases the risk of skin cancer and premature skin aging caused by the sun (wrinkles, sagging, dark spots).
---
Active Ingredients: Zinc Oxide USP 25% (Sunscreen). Inactive Ingredients: Pure Spring Water, *Jojoba Oil, *Shea Butter, *Vitamin E, *Extra Virgin Olive Oil, Vitamin D3 (Cholecalciferol) *Vegetable Glycerin, Nano Cannabidiol, MCT, *Vegetable Emulsifying Wax, Iron Oxides. Certified Organic USDA. GMO Free . Warning: For external use only.
The most critical step to protect your skin from skin cancer, aging and photosensitivity.

Photoaging is responsible for the majority (90%) of premature sun damage to the skin. A few minutes of sun exposure each day, over the course of many years, can cause significant damage while increasing chances of skin cancer. Learn how to prevent premature sun damage.