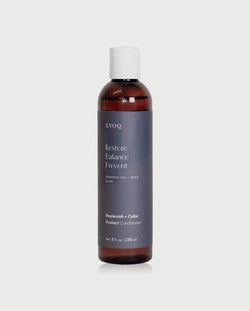 Replenish + Color Protect Conditioner
A nourishing moisturizer that helps to restore the hair shaft, balance the scalp's pH, and prevent hair thinning & loss.
Therapeutic Balancing Sesh. Like an Adaptogen for your hair.
---
"this intensely moisturizing conditioner is specially formulated to nourish the hair shaft, right down to the scalp.
This Therapeutic Conditioner balances and deeply hydrates for healthy, glossy hair with restored softness and flexibility. Hair thinning and loss is prevented for even the most fragile scalps. Hair is strengthened at the root, returning body and volume to your hair.
Rich butters intensely moisturize and revitalize the hair structure for long-term frizz-free shine. They protect hair from harmful environmental impacts, styling agents, and hard water deposits. Seed oils and vitamin B5 complex impart essential nutrients that restore scalp balance and moisture to help restore color-treated hair to optimum health with extraordinary shine."
Imparts emollient and antioxidant properties while moisturizing through a natural composition of 18 amino acids, vitamins, and minerals.
---
Infuses hair with restorative moisture and protects from environmental damage.
---
Essential for hair health and scalp rejuvenation. Easily penetrates the hair cuticle to strengthen the internal structure by up to 20%.
---
High in lipids to act as an emollient for dry, damaged hair.
"*Organic Aloe Juice, *Babassu Oil, Behentrimonium Methosulfate, Cetearyl Alcohol, *Extra Virgin Olive Oil, *Apricot Kernel Oil, * Glycerin, Glyceryl Stearate, Sodium Stearoyl Lactylate, *Chamomile Extract, Panthenol Dl, Vitamin E, Rosemary Seed Extract, Vitamin C, Vitamin B3, Vitamin B5, Vitamin B6, Propanediol & Ethylexyl Glycerin (Naturally Derived Preservative), Potassium Sorbate (Food Grade Preservative) *Organic Essential Oils Of Spearmint, Peppermint & Lemongrass
*Curated with organic, wildcraft, and food-grade ingredients."
Sulfates, parabens, PEGs, xenoestrogens, propylene glycol, mineral oil, paraffins, GMO/GLUTEN/DEA/MEA/TEA/EDTA, formaldehyde carriers, synthetic fragrances or dyes. Color Safe. Dermatologist Recommended.
STRATEGIC BIOACTIVE BENEFITS

-Restores moisture, softness, and flexibility
-Deeply nourishes the hair shaft and roots
-Prevents hair loss in fragile scalps
-Encourages strong, glossy hair
-Maintains and prolongs vibrant hair color
-Restores natural curl pattern
-Decreases frizz and everyday damage

-Help build body in fine, thinning hair

---
Massage into hair and scalp. Rinse.
Conditioner is the key to healthy, shiny hair.
Our nourishing moisturizer is shown to restore the hair shaft, balance the scalp's pH, and prevent hair thinning & loss. Through its rich extracts, this conditioner strengthens the cuticle, softens hair, controls frizz, soothes the scalp, and enhances sheen for silky, shiny locks.