Smooth + Shine Gloss Serum
This defrizz serum helps to control static, illuminate locks, and hydrate from root to tip for vibrant, healthy hair.
You are a light, and when you shine, you shine bright.
---
"Bid frizz goodbye with this universal healing and weightless shine serum. Lovingly wrap your strands for instant strength, hydration, and protection for the modern day woman's gloss "on-the-glow." It fundamentally restores strands, brilliantly illuminates, and enhances color while taming frizz and flyaways for every hair type.
This defrizz serum puts an end to split ends and everything in between. The possibilities are endless from a pre-blowout serum, a cocktail with pomade, or gel for a textured shine. You can even add a drop to finish or tame puffiness. It's like the perfect ending shine serum that helps repair and seal broken strands as it protects against future fraying. Color-safe and ideal for absolutely everyone.
So shine on."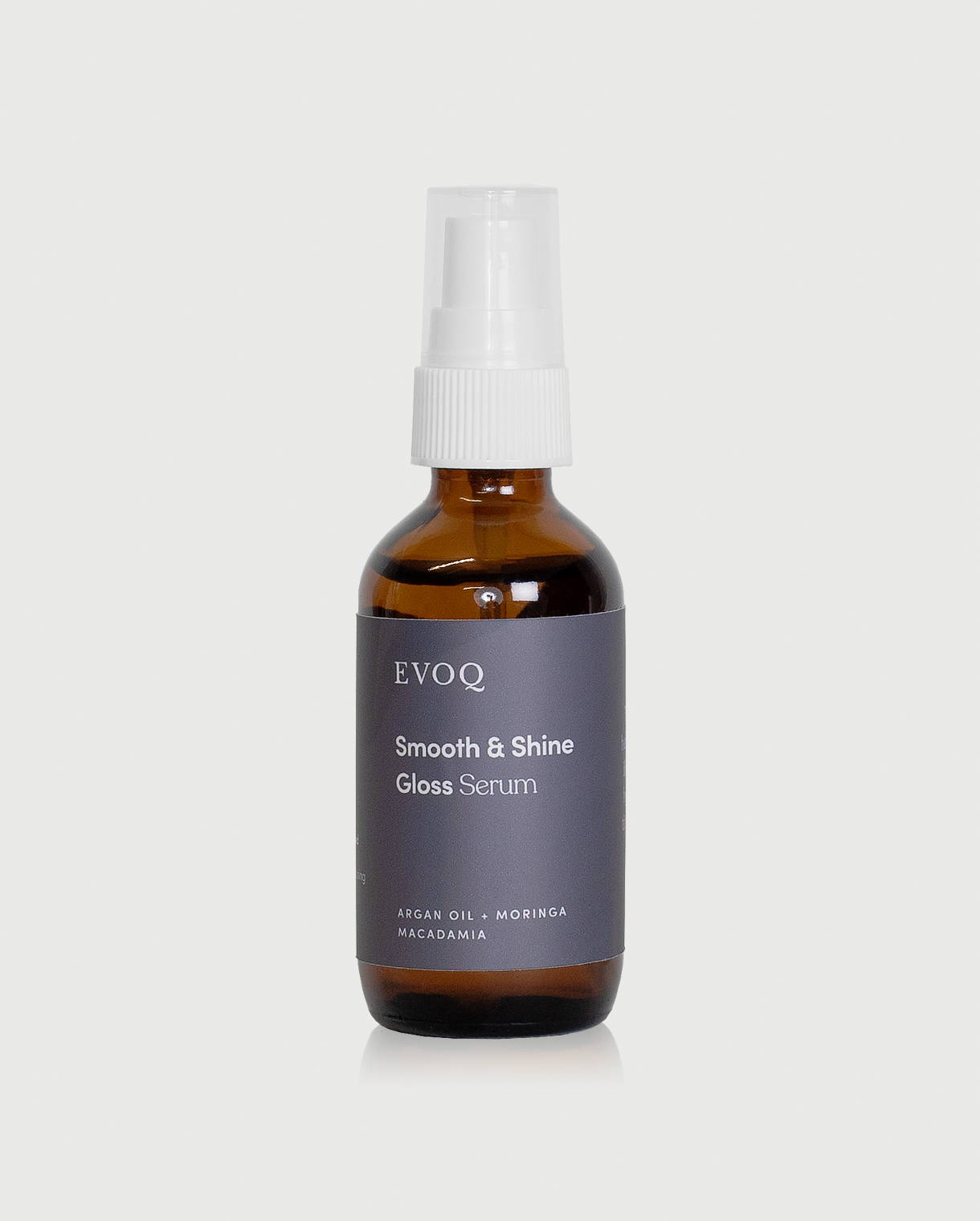 An antioxidant-rich oil which treats damaged hair and rejuvenates dry ends with Vitamins A and E. Moisturize and boost cell production, promoting healthier, smoother hair.
---
An active form of vitamin B infused for excellent emollience. Instantly binds to the hair shaft by creating a light seal on the surface of the hair, wrapping the hair shaft and giving luster and shine. It also reduces the formation of split ends.
---
Grape, Moringa, and Sunflower Seed oils combine to provide strands with strength and hydration necessary for a beautiful shine.
---
Strengthens and protects hair from UV damage, styling tools, and everyday stressors.
"Virgin Organic Argan Kernel Oil, Phytantriol, Silk Amino Acids, Rice Bran Extract, Rosemary Leaf Extract, Sunflower Extract, Tocopherols, *Moringa Seed Oil, Vitamin B (D-panthenol), Ethylhexyl Palmitate, Cyclopentasiloxane, Polyester-4, *Grape Seed Oil, *Macadamia Seed Oil, *Juniper, *Sunflower Seed Oil, *Olive Oil, *Rice Protein, Vitamin E Oil.
*Curated with organic, wildcraft, and food-grade ingredients."
STRATEGIC BIOACTIVE BENEFITS

-Create lightweight shine and hydrates
-Control frizz and flyaways
-Protect from heat and environmental damage
---
Apply a pea-sized amount between your palms and rub them together. Work into towel-dried or dry hair, focusing on the ends.
Unhealthy hair care habits strip shine from your hair.
While many women want the "wash and go" style that's authentically just that...wash, then go - the majority of us really aren't that kind to our hair. Most of the time, we're not aware or even realize what we do that is so damaging to our hair. Fact is, dryness, breakage, and dull hair is commonly experienced due to the modern day gal who wants to look polished, wear a hair color that enhances their skin tones and personality, and use products that assist the style you're wanting to achieve. After switching out some of your unhealthy hair care habits, you may be surprised just how shiny and smooth your strands can truly be.