---
"When you are trying to sustain the hair you have, the last thing you want to do is apply overly aggressive ingredients, even if they're natural. Many hair growth and volumizing shampoos are filled with salicylic acid and other harsh surfactants, which may disrupt the biome and inflammatory state of the scalp.
Our shampoo is made from a gentle formula that delivers strengthening nutrition with a balanced blend of vitamins, minerals, and proteins. It's perfect for fine, flat, or thinning hair. It foams quickly to produce a refreshing and voluminous lather. This sulfate-free cleanser helps to recondition hair and rejuvenate.
If you are concerned about hair loss when shampooing, this gentle cleanser adds volume while removing build-up and toxins from your hair & scalp such as DHT, a primary cause of thinning hair and hair loss."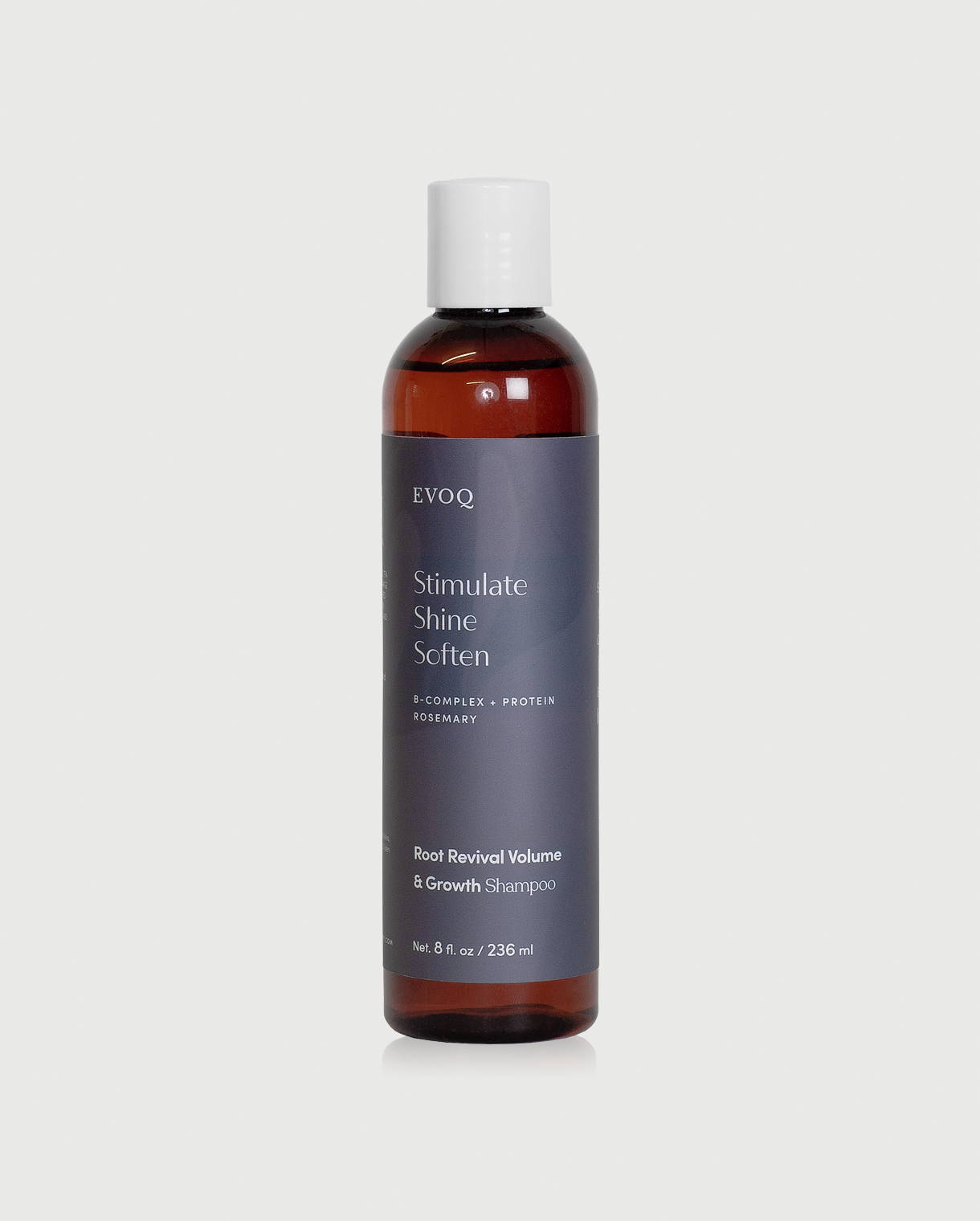 Strong capabilities to reduce inflammation due to free radical scavenging activity, strong corticoid-like effects that make it anti-inflammatory. Encourages regenerative qualities for healthy scalp tissue, sebum production and aids in improved blood circulation, which encourages blood and nutrient flow to the hair follicles, which improves their growth rate.
---
Natural youth-renewal protectants against harsh UV rays that cause photoaging and dry out and damage strands. Vitamin E is moisturizing and supports healthy hair follicles by promoting good blood circulation and the delivery of vital nourishment.
---
Potent in antioxidants which can prevent thinning hair and even graying hair. Helps promote blood circulation for stimulating growth. Also helps tone down sebum production and clears pores.
---
Works deep within the hair follicles by unclogging and helping with a normal flow of sebum. Antibacterial and antiseptic properties kill microbes which inhibit hair growth and promotes hair growth and prevents breakage.
---
Moisturizes and thickens hair to prevent damage and impart a beautiful luster and sheen. Easily penetrates the hair cuticle to strengthen the internal structure by up to 20%.
---
Natural, Pure Pigments of Violet

Enhances cool tones and cuts back on brass.
"*Herbal Hydrosol Water Complex (*Helichrysum, *Tea Tree *Rosemary, *Witch Hazel), Decyl Glucoside, Laurel Glucoside, * Vegetable Glycerin, Sodium Alginate, Amber Extract, (Gluten Free) Oat Protein, Silk Amino Acids, Panthenol Dl, Vitamin C, Vitamin E, Vitamin B3, Vitamin B5, Vitamin B6, Lactic Acid, *Tea Tree Oil, *Fir Needle Oil, * Sweet Orange Oil, Propanediol (Naturally Derived Preservative), EthylhexylGlycerin (Naturally Derived Preservative), and Potassium Sorbate (Food Grade Preservative)
*Curated with organic, wildcraft, and food-grade ingredients."
Sulfates, parabens, PEGs, xenoestrogens, propylene glycol, mineral oil, paraffins, GMO/GLUTEN/DEA/MEA/TEA/EDTA, formaldehyde carriers, synthetic fragrances or dyes. Color Safe. Dermatologist Recommended.
STRATEGIC BIOACTIVE BENEFITS

-Protect from UV rays, preventing early photoaging
-Gentle on scalp due to being free of harsh surfactants
-Balance the scalp's pH and normalize sebum
-Promote good blood circulation and the delivery of vital nourishment
---
Apply and evenly massage into hair and scalp. Follow with Root Revival Volumizing Conditioner.
A shampoo that creates voluminous hair with a luxurious lather.
A gentle, sulfate-free cleanser that helps to recondition hair and rejuvenate the scalp. Gently adds volume, body, and thickness while improving strength to fine and medium hair with a balanced blend of vitamins, minerals, and proteins.