Ommm.
An Unparalleled
Sensory Exp.
---
- A Proven Natural Solution 2x's More Powerful than Drug Based Products.
"Your scalp is one of the fastest growing tissues in the body so it deserves a whole lotta love. Thinning hair happens when hair stem cells shrink or stay asleep in the scalp. This reviving tonic helps as a molecular switch to turn on new hair growth. It strengthens and stimulates the scalp to ignite new hair growth and prevent hair loss by densifying hair follicles. It also prolongs the hair's growth phase.Nourish and balance your scalp with our revolutionary rich concentration of clinical studied botanical actives and nano cannabinoids (CBD) infused with a Broad Spectrum of cannabinoids and terpenes including CBD, CBG, CBC, Linalool, Myrcene, Ocimene and Caryophyllene."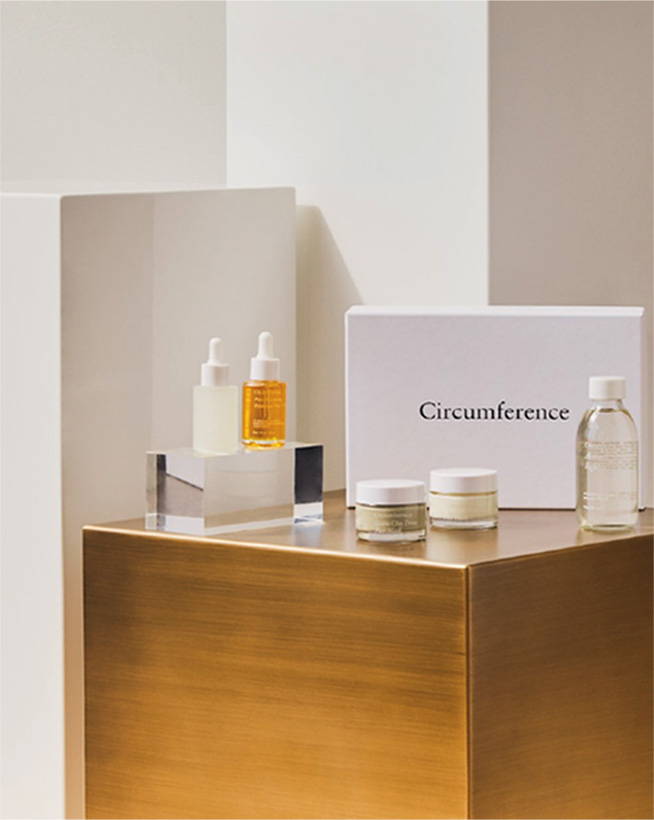 Dihydroquercetin Glucoside (DHQG)

Is a molecule derived from the larch tree found to carry out multiple functions in hair growth.
---
EGCG2 (Epigallocatechin gallate)

Reduces the inflammatory state of the scalp and also minimizes aging of the skin.
---
Allow an improvement of growth and strengthening of the hair.
---
A bioflavonoid that acts as an antioxidant. Research has shown that apigenin stimulates hair growth.
---
An amino peptide that actives lengthen the growth phase, strengthen, and energize circulation to the scalp for optimal nutrient delivery.
---
A natural component of many plants. It has antioxidant and antimicrobial effect. It's often used in hair growth products together with Biotinoyl Tripeptide-1 and Apigenin.
---
Saw Palmetto + Glycoproteins

These are linked protein and polysaccharide (sugar) that thicken and strengthen while Saw Palmetto soothes the root and studies show it decreases hormonal imbalances that cause thinning hair.
---
"Medicinal water particle sized down to 7 nanometers for the most efficient therapeutic action with over 72 vitamins, minerals and glyconutrients boost scalp immunity and antioxidant healing properties. Made into a memory lock of vibrational pattern in the water molecules associated to the range of frequencies that comprise the human chakra system.
Naturally integrates with the dermis CB2 receptors in it's innate endocannabinoid system to help reduce common dry hair conditions, inflammation and imbalance. Dives deep and soothes a sensitive scalp, nourishes flaky skin, and calms itchiness, inflammation, and irritation."
"Isotonic Sea & Deionized Water, Sodium Metabisulfite, Larix Europaea Wood Extract, Glycine, Zinc Chloride, Green Tea Extract, Alcohol Denat., Pea Protein, Soy Protein, Tocopherol, Saw Palmetto Fruit Extract,*Kappaphycus Algae, Nano Hemp CBD Trace Mineral Matrix, Mitochondrial Energy Proprietary Blend of 72+ Trace Minerals, Propolis Cera Extract, Glycoproteins, Apigenin, Oleanolic Acid, Biotinyl Tripeptide­ 1, Biotin, B-Complex, *Willow Extract, Ascorbic Acid (C), Manganese Gluconate, Magnesium Gluconate, *Aloe Barbadensis Leaf Extract, Vitamin C Ester, Pyridoxine, Panthenol, Cholecalciferol (vitamin D3), Tocopherol, *Goji Extract, *Acai Extract, *Pomegranate Extract, *Cranberry Extract, Caprylhydroxamic Acid, Glycerin, Rosemary Essential Oil, Wild Orange Essential Oil, and Citric Acid
*Curated with organic, wildcraft, and food-grade ingredients."
Parabens, Preservatives, Petroleum, Phenoxyethanol, Mineral oil, Xeno-Estrogens, Synthetic dyes, SLS, Phthalates, Gluten, QUATS, PEGs, Silicones, Chlorides & EDTA, DMDM Hydantoin, Noncomedogenic, and Hypoallergenic
STRATEGIC BIOACTIVE BENEFITS

-Enhance hair growth, leaving hair feeling thicker and fuller
- Lightweight spray, no oily residue and easy to style with
-Reduce inflammation
- Create an energetic frequency for healing and balance
- Amino Acids to strengthen, thicken, and favor hair growth, decreasing breakage
- Lengthen the growing phase and shorten fallout stage
- Rejuvenate damaged hair follicles
- Restore healthy hair growth cycles
- Increase scalp circulation bringing nutrition deeper into hair follicles
---
Towel dry hair and spray onto the scalp, focusing on areas with advanced thinning. Gently massage scalp. Do not rinse.
Dry and style hair as desired.
Rinse with lukewarm water to unveil a refreshing
brighter, clearer complexion.
Fact: our hair shrinks as we age, but we can combat it.

Once women hit the age of 40, the diameter of the hair shaft begins to shrink, leaving you with thinner hair and less volume. Follicles continue to shrink as we age, and nearly 40% of women experience some degree of hair loss by age 60. Since hair growth is hormonally driven, many women see these changes coincide pregnancy, perimenopause and menopause. Additionally, as we age, the keratin production cycle gets shorter, so hairs don't fully grow. But there are a myriad of other lifestyle and environmental factors that directly contribute to hair loss for women of all ages. Learn more here.