Ommm.
An Unparalleled
Sensory Exp.
---
- Who looks outside, dreams; who looks inside, awakens. To look awake. To live AWAKE.
"You know that never-ending feminist debate about whether women can have it all?
The answer is yes. (At least when it comes to her eye cream.) This eye and lip infusion is a one-cream wonder with power-peptides for visible wrinkle-smoothing, shea butter for moisturizing, sea retinol for puffiness-reduction, and trans-resveratrol to protect against any visible signs of premature aging.
The skin under the eye is incredibly thin and delicate (ten times thinner than the skin on the rest of your body), so this formula specifically revitalizes your most expressive features that are the first to show your emotions, signs of age, and fatigue. Swipe up and delay dark circles, puffiness, fine lines, and wrinkles, and say hello bright, beautiful eyes and luscious, plump lip lines."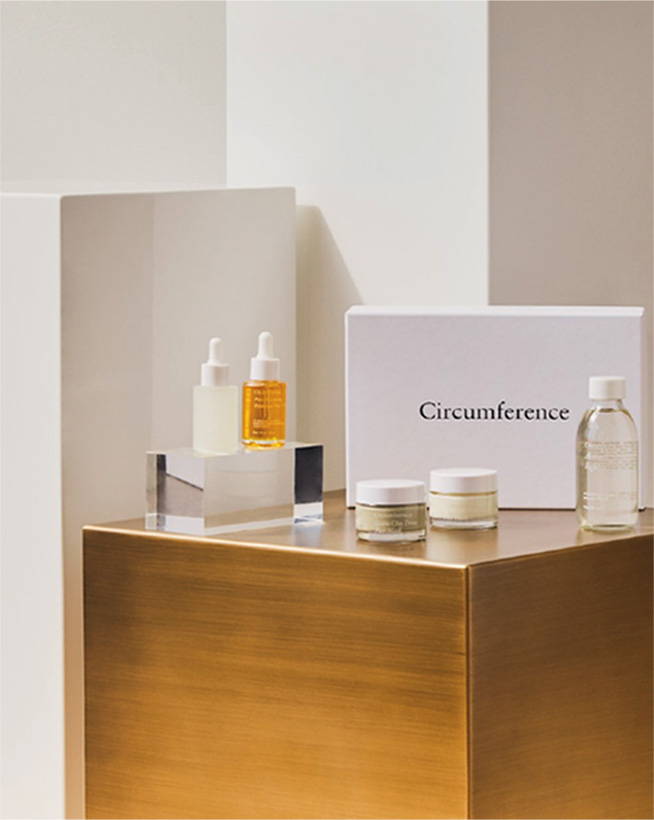 Natural acids increase cellular turnover to support and promote fresher, younger, and smoother looking skin.
---
Marine Criste Extract or "Sea Retinol"

Patented Sea Retinol visibly smoothes wrinkles and creates a radiant complexion.
---
Liquid Oxygen (Perfluorodecalin)

Reduces the appearance of fine lines and wrinkles by increasing the skin's volume. Improves the look of dark circles over time.
---
Stimulates collagen production by communicating with the dermal layer of the skin when skin ages and/or damaged. Patented the first natural polypeptide to increase skin firmness & elasticity.
---
The most bioactive form of resveratrol, this isomer protects your skin from oxidative stress, filters UV rays, decreases inflammation, and prevents precancerous activity. Prevents premature aging by increasing the synthesis of collagen, which reduces the appearance of fine lines and wrinkles, smooths skin, improves firmness and elasticity, and increases dermal thickness.
It's helpful in reducing signs associated with aging, such as crow's feet, fine lines, and wrinkles. Ergothioneine protects the skin from oxidative and DNA damage. It is an antioxidant, protecting the mitochondrial membrane against oxidation and transfers fatty acids into the mitochondria to help use oxygen efficiently and to produce more energy.
"*Isotonic Seawater, *Porphyra Red Algae, *Laminaria Algae Extract, Perfluorodecalin & Perfluorohexane (Liquid Oxygen), * Sunflower Seed Oil, Trans-Resveratrol, Sodium Hyaluronate, Marine Criste Extract, *Fucus Vesiculosus Algae Extract, Glycerin, *Virgin Coconut Oil, *Pancratium Maritimum Extract, Vitamin C Esters, Hexapeptide 11, L-Ergothioneine, Cetearyl Glucoside, * Shea Butter, Glucosamine HCL, Xanthan Gum, *Grapefruit Oil, Vitamin E Oil, Leuconostoc Radish Root Ferment, Lactobacillus & Coconut Fruit Extract.
*Curated with organic, wildcraft, and food-grade ingredients."
Parabens, Preservatives, Petroleum, Phenoxyethanol, Mineral oil, Xenoestrogens, Synthetic dyes, SLS, Phthalates, Gluten, QUATS, PEGs, Silicones, Chlorides & EDTA, DMDM Hydantoin, Non-Comedogenic, and Hypoallergenic
PSkin nourishments are packaged in advanced biophotonic glass bottles to protect light and air-sensitive ingredients, keeping your solutions fresh, potent and proactive for visible results.
STRATEGIC BIOACTIVE BENEFITS

- Reduces the appearance of fine lines and wrinkles around the eyes,
- Helps with lifting, firming and wrinkle production with immediate and long-term peptide complexes.
- Reduces inflammation.
- Serves as a vital protective layer against pollution and the chemicals found in makeup.
- Boosts and maintains moisture to dry lips and dehydrated dermis which deters fine lines.
- Reduces the accumulation of water retention and visible puffiness.
- Oxygenated lipid delivery of nutrients renew respiration to minimizes the visibility of dark circles.
-Restructures with an abundance of micro-algae to naturally drain excess water retention and inhibit cell deterioration.
-Firming neuropeptides increases elasticity production for de-lined and smoother contour.
-Hyaluronic attracts and locks in replenishing hydration 1000x's its own weight with extra barrier nourishment.

---
Lightly apply to orbital bone, eyelid, and lip area as needed to brighten, regain firmness and elasticity, remain hydrated and moisturized.
How to protect the thinnest skin on your face.
The skin around the eyes is the thinnest of anywhere on the face (10 times), and aging causes it to become increasingly fragile, get translucent dark circles, develop shadows and puffiness, so they need to be treated with extra care.